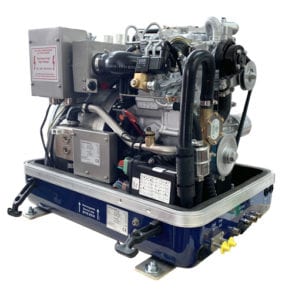 Fischer Panda Marine AC Mini 9 DP
When you need a more power than our Fischer Panda Mini 8, with minimal size and weight change our powerful Fischer Panda 9 DP is the ideal choice.
The Fischer Panda 9 DP diesel generator with our  freshwater-cooled, Asynchronous  electrical end matched with the Kubota Z602 twin-cylinder diesel engine enables the Fischer Panda 9 DP generator to produce up to 75 amps at 120 volts.
The Fischer Panda 9 DP comes standard with our technically advanced Voltage Control System (VCS), which stabilizes voltage within a range of plus/minus 3 volts.
Fischer Panda Marine Generator Digital Panel (DP) feature a smart panel diagnostics system that continuously monitors all functions.
At only 365lbs and with a noise level rating of 54 dBa @ 7 meters the Fischer Panda 9 DP is ideal for larger sailboats and powerboats.
Fischer Panda Diesel Marine Generators are Ignition protected for gas boat applications.
Advanced digital control panel provides extensive performance and diagnostic data
Less weight, size and noise
Extremely quiet (52dba@7meter)
Safety shutdowns for all critical functions
Self protected against overload
VCS electronic governor provides excellent voltag