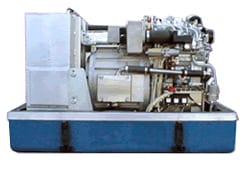 Fischer Panda AC 8 Mini
100% Fresh Water-Cooled (Ignition Protected for gas vehicle applications)
The most significant advantage of the Fischer Panda vehicle generators is the very low sound level. There are many combined factors that produce this result.
The most important fact is that the engine and alternator are completely freshwater-cooled, no cooling air flow inside of the capsule is required. Because there is no requirement for air, with the exception of a small air intake for combustion, your Fischer Panda will be the quietest generator you'll never hear. This small quiet and efficient system is perfect for your medical, broadcast or specialty vehicle needs. Horizontal or vertical radiator options can be mounted on the roof or side of the vehicle.
Features: 120/240Volt single phase 50Hz. or 60Hz.
Sound: PVMV Mini 8/12: 4 DS silent fiberglass
Covers: PVMV 16/21: 4 DS super silent stainless steel
Available:
Auto start
Water-cooled exhaust manifold
Muffler external radiator assembly and fans
Frequency

60 Hz

Voltage

240V/120V

Current Max.

31.0A/62.0A

Peak Output

7.5 kW

Continuous Output

6.8 kW

Engine Type

Kubota

Cylinders

2

Displacement

479ccm/29.23cu.in.

Cooling

Remote Radiator

Dimensions (LWH)

34.0×21.0×25.0 in.