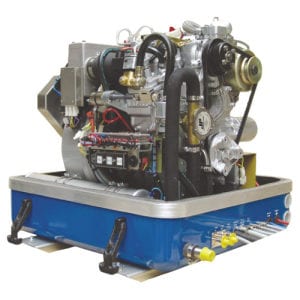 Fischer Panda DC AGTPM6000
100% Fresh Water-Cooled (Ignition Protected for gas boat applications)
Fischer Panda Generators AGTPM6 DC generator is powered by the reliable freshwater cooled Kubota Z482 diesel engine and our direct driven Fischer Panda permanent magnet generator. Leave the recharging to us, our AGTPM6 DC also comes standard with our auto-start system to recharge your batteries and then shuts down, relieving of the duty of worry about your batteries. The AGTPM6 DC gives incredible results that are an efficient, compact, extreme fuel efficiency and low maintenance.
With the AGTPM6 DC low noise (52 dBa @ 7 meters) and small size it is prefect for a tight installation on a sailboat that does not have any large AC consumers on board. It is also an ideal option for a boat that is mainly dependent on DC equipment. The low 265 lbs weight is an added bonus when you install this workhorse. Available in 24 or 48 volts with custom voltages upon request.
The Fischer Panda AGT Generator charges the batteries automatically
Less weight, size and noise
Extremely quiet (54dba@7meter)
Direct driven Alternator
Flexible and efficient supply of power through the inverters and generator
Automatic start/stop of battery charging when batteries require
Generator is not required to run continuously thereby requiring less fuel and maintenance
Available in many voltages and amperage outputs
Ignition Protected for gas boat applications
Continual supply of AC voltages for consumers through selected electrical inverters
Comes complete with harnesses, control panel, auto-start, sound enclosure and remote fuel lift pump
5 Year limited warranty
| | |
| --- | --- |
| Output | 6 kW |
| Voltage | 24V |
| Continuous Output | 166A |
| Engine Type | Kubota Z•482 |
| Cylinders | 2 |
| Displacement | 479ccm/29.23 cu.in. |
| Cooling | H/E |
| Dimensions (LWH) | 21.6×19.8×22.8 in. |
| Weight (Wet) | 265 lbs |
| Noise Level | 54 dBa @ 7 m |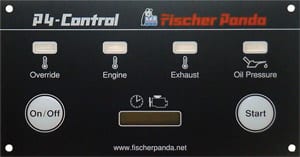 Remote Control Panel
The nine function control panel with digital hour meter includes 10 meters of control panel cable. This panel shows the necessary information in the event of a malfunction. It will aid in the diagnosis of the problem.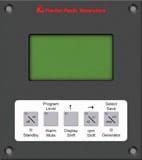 Digital Control Panel
Digital panel (DP) generators feature a smart panel diagnostics system that continuously monitors all functions and the performances of the engine and generator.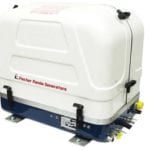 Sound Shield
With the need for cooling airflow eliminated, Fischer Panda generators can be encapsulated in a three-piece insulated fiberglass sound shield (or aluminum, standard in models 16 kW and larger) to seal off offensive sound.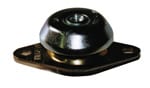 Motor Mounts
External Soft Motor Mounts for extra smooth operation.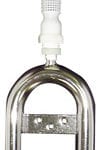 Vented Loop
(anti-syphon valve) Recommended for all installations. Prevents water from siphoning back to the engine and minimizes potential electrolysis. Made with a stainless steel tube and nylon valve for long life and easy service.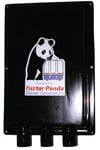 Gas Separator
Exhaust water separator provides very low back pressure and extra quiet exhaust noise.
Low Profile Muffler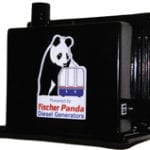 Low inlet muffler for installations where the muffler cannot be installed lower than the genset.
Get More Power from a 24V AGT6000 Compact Marine Generator From Fischer Panda
If you are in the market for on on-board DC marine generator solution that is compact, quiet, and lightweight, then Fischer Panda has the perfect option for you.  Weighing in at just 265 lbs, our AGTPM6 DC generator is a 24V compact DC marine generator that is perfect for bringing ample power on-board any large boat or Yacht without disrupting the space. Our AGTPM6/24V marine generator is the only genuine 100 percent fresh water cooled generator of this size available on the market
Onboard Power Solutions
If you're looking for a 24V compact marine generator, you will find just what you need with our silent operation generators. These generators are lightweight and small enough to serve as an onboard power solution for any type of vessel, giving you the power you need without sacrificing valuable space for passengers and equipment. They can work with both AC and DC compatibility, allowing these generators to be utilized across many different boats, yachts, and sailboats. The AGTPM DC series of generators feature an auto-stop/start function to help save power when not in use, operate within a sound-insulated capsule that is rated at 52 dBa at 7 Meters, and are water cooled to maximize energy efficiency.
Contact Fischer Panda today to learn more about our AGTPM6 24V compact DC marine generator, or any of our other compact marine generators. Call us today at 1-800-462-6494, or visit our website to check out our inventory. We are sure to have something perfect for your needs.
Due to our continual product development, we reserve the right to alter any specifications without warning. All ratings refer to air and water temperature of 20°. De-rating at 1% approx. every 100m altitude and 2% approx. every 5°C air-temperature above 20°C and 2% approx. every 1°C water-temperature above 20°C.