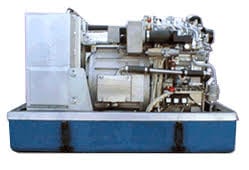 Fischer Panda Vehicle AGT Series
Ignition Protected for Commercial Applications
Fischer Panda DC AGT Series are designed to provide DC current to the battery bank of the inverter system. This intermittent generator saves up to 70% running time and 70% in fuel requirements. In addition, with autostart/stop functions the Fischer Panda AGT generator ensures that your batteries will have a much longer life by minimizing the risk of battery discharge. For all your specialty vehicle needs, call us at (800) 508-6494 or Contact Us via e-mail.
Fischer Panda Portable:
AGT 3500 Y 120A @24 VDC or 60A @ 48 VDC system with Yanmar 1 cylinder air-cooled Diesel Engine, with 16 pole synchronous generator with 12 volt electric start, battery controller and self-start, battery controller and self-start/stop automatic.